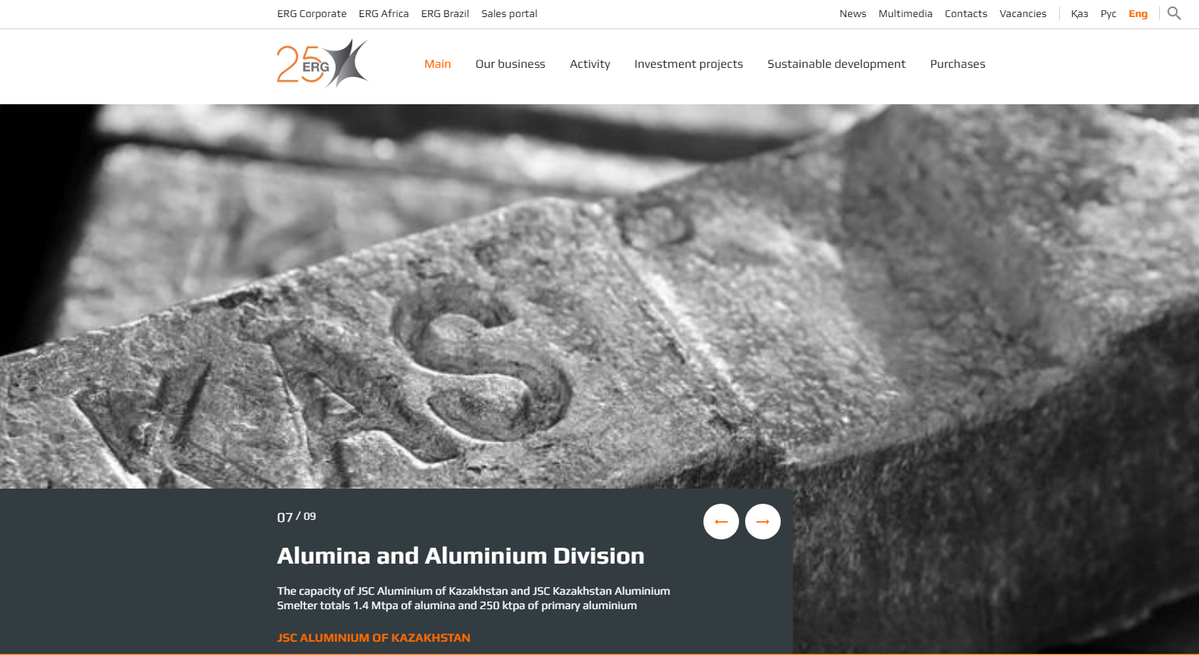 A screenshot of the ERG website. [Photo/ERG Corporate]
Eurasian Resources Group (ERG) has been exploring opportunities with strategic Chinese partners to cooperate on several big-ticket projects in a move to further grow its network in the country, its chairman said. ERG is an international metals and mining company.
Alexander Machkevitch, chairman of ERG, said there is significant potential for collaboration with Chinese companies on several projects worldwide.
One key endeavor is the second phase of ERG's Kazakhstan aluminum smelter. The new module, worth between $1 billion and $1.5 billion, can expand the annual capacity of the smelter by at least 300,000 metric tons, Machkevitch said in an exclusive interview with China Daily.
The first phase of the smelter had an aluminum capacity of 250,000 tons per year. It was jointly constructed with China Nonferrous Metal Industry's Foreign Engineering and Construction Co, a subsidiary of State-owned China Nonferrous Metal Mining (Group) Co. To date, the plant remains one of China's largest investments abroad.
ERG's collaboration with China has included co-financing, off-take agreements, EPC (engineering, procurement and construction) arrangements, and equity partnerships.
Machkevitch said ERG is focused on ensuring that its partnership and relationship with China continues to grow in the coming years. He said enormous changes have taken place in China, one of which is that its companies have gained international expertise.
"They (Chinese enterprises) are much more professional, and have become really big international companies," he explained.
ERG is a leading diversified natural resources producer. Its entities began working with Chinese companies more than 20 years ago. ERG's main business in China is mineral products sales and international project cooperation.
The company is strategically well positioned within the Belt and Road Initiative and helps bridge the infrastructure gap across Asia, Africa and Latin America, the chairman said.
He said ERG welcomes the efforts of China's government in creating a fair, transparent and more inclusive business environment that supports foreign investment, pointing in particular at the introduction of the Foreign Investment Law and further its opening-up policy.
Machkevitch said he hopes China will be further scaling its opening-up measures and its efforts to lower restrictions for foreign investment.
"Today all our projects are outside of China. But one day, we would like to implement projects inside China as well," he said.
Bullish on China's market prospects, the ERG chairman said he sees "no problem" even if the country's growth rate slows down a bit given the sluggish global economy. Economic growth of more or less 6 percent is still "very high numbers", he said.
The energy sector is also promising as China consumes more than half of all commodities worldwide, he added. Demonstrating strong demand for ERG's products which include ferrochrome, copper, cobalt, iron ore and alumina, China accounts for more than 20 percent of the company's total sales volume, Machkevitch stated.
As new energy vehicle sales have been booming, global consumption of cobalt, a key element in the batteries of such vehicles, is estimated to exceed 30,000 tons in 2020, and China would consume about 45 percent of the metal, Lu Rixin, an analyst with Orient Securities, said in a research note.