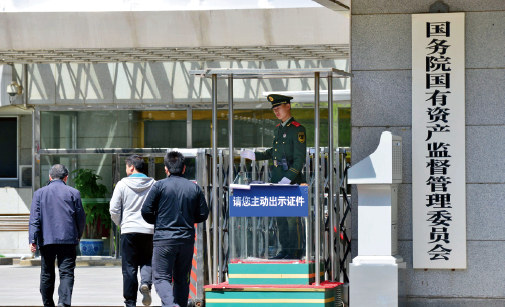 File photo: the State-Owned Assets Supervision and Administration Commission. [Photo/Agencies]
China will push "targeted integration" in its centrally administered State-owned enterprises this year to improve their efficiency and encourage qualified SOEs to go public, the country's top State assets regulator said on Wednesday.
Peng Huagang, secretary-general of the State-Owned Assets Supervision and Administration Commission, said the authorities will accelerate the pace of integration in areas of equipment manufacturing, chemicals, maritime engineering, and overseas oil and gas assets this year to enhance the earning capabilities of SOEs.
To improve the efficiency of State capital, China has reorganized 41 central SOEs since 2012, including the merger of China State Shipbuilding Corp and China Shipbuilding Industry Corp, and the structural reorganization of China Poly Group Corp and China Silk Corp.
The country will continue to spin off a number of SOE subsidiaries that lose money, as well as non-primary businesses. And it will further cut the administrative functions of centrally governed SOEs, Peng said.
Thanks to progress of mixed-ownership reforms in China and the reorganization and asset securitization of State capital, the country's central SOEs reported faster profit growth with lower debt-to-asset ratios last year compared with 2018, the SASAC reported on Wednesday.
Net profits at China's central SOEs amounted to 1.3 trillion yuan ($188.6 billion) last year, jumping 10.8 percent year-on-year.
Peng said the growth rate had picked up steadily in the second half of the year, and the SOE target of "ensuring 7 percent year-on-year growth while striving for 9 percent" was attained.
At the end of last year, the average debt-to-asset ratio for central SOEs stood at 65.1 percent, a drop of 0.6 percentage points from the beginning of the year.
Sixty-four central SOEs saw their debt-to-asset ratio drop from the beginning of last year. In industries such as metallurgy, power, mining and construction, the ratio fell by more than 1 percentage point.
"We will encourage central SOEs and their subsidiaries with strong technological innovation capabilities and promising market prospects to go public," Peng said.
The government also supports central SOEs being listed on the Hong Kong Stock Exchange, Peng added.
China First Heavy Industries Co, which supplies technical equipment, high-tech products and services for a number of industries, including steel, nonferrous metals, electrical power, energy and automobiles, suffered financial losses in 2016 but has seen a notable jump in net profits since 2018, after it steadily deepened its supply-side structural reform and adjusted its operating model.
Liu Mingzhong, the group's chairman, said it has upgraded its products and introduced wider mixed-ownership reform in some of its subsidiaries to tap new industries and provide more diverse products.
The improved efficiency of the SOEs will benefit the whole corporate sector as they provide broad opportunities for the investment and growth of businesses with varied ownership, as well as promote deep integration of industrial, supply and value chains for enterprises of differing sizes in home and global markets, said Liu Xiangdong, deputy director of the economic research department of the China Center for International Economic Exchanges in Beijing.
Operating revenues of central SOEs totaled 30.8 trillion yuan in 2019, a year-on-year growth of 5.6 percent, the State assets regulator said. Among them, 10 central SOEs achieved revenue growth of more than 20 percent last year, and 29 registered over 10 percent growth.