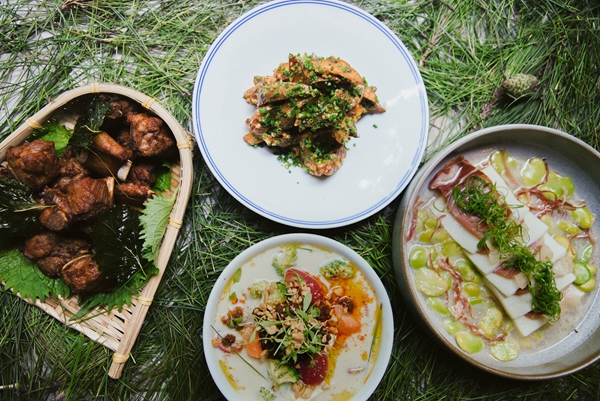 All the dishes at Cravings originate from Xiao's memories of his childhood in his hometown, Kunming, Yunnan province.[Photo provided to China Daily]
Beijing's Longfusi area used to be famous for a snack street where you could sample many traditional treats, such as glutinous-rice rolls with sweet red-bean filling and pea-flour cakes.
The street has been gone for may years, and the area was redeveloped this year with restaurants and art museums. It has become a hangout for young people.
The Yunnan-cuisine restaurant, Cravings, with its industrial-style decor and home-style Yunnan dishes, is a popular eatery in the area.
There, chef Xiao Li'ang, who was born and raised in Kunming, Yunnan province, is bringing his memories of classic Yunnan dishes to diners in Beijing.
"The dishes on the menu are common in Yunnan-cuisine restaurants in Beijing, but each restaurant makes each dish differently. My goal is to just make some delicious Yunnan dishes," the 28-year-old says.
One of the traditional snacks on the menu is fried potato chips, something Xiao used to share with his classmates after school.
"The fried potato chips used to sell for 0.5 yuan (7 cents) per portion and I try to replicate that flavor with a little twist," he says.
The chips are fried twice to make them crisp, but the seasoning is the key. Here, Xiao uses a lot of chopped coriander and green onion to add a fresh flavor and a green tinge to the dish, and also to balance the heavy flavors of Yunnan fermented bean curd and chili sauce.
"Another secret is to use a lot of chopped fish mint. Mixing it with other seasoning will make the taste of the potato special," he says.
Pork neck with mashed garlic is another example. Xiao uses the upper shoulder of the pig instead of the usual lower neck because it's more tender.
Then Xiao pan-fries the pork and pairs it with a garlic sauce to which he adds vinegar from Japan and chili sauce from Yunnan. A layer of onion is placed between the meat and sauce.