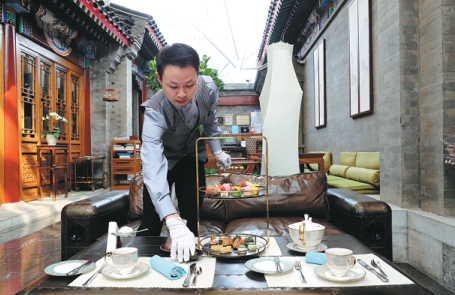 A waiter serves the afternoon tea for guests at the boutique hotel.[Photo provided to China Daily]
From city to seaside, or mountain to prairie, a growing number of Chinese tourists from a diverse range of ages and backgrounds are enjoying a wide variety of homestays and bed & breakfasts that are springing up all over the country.
Courtyard hotel offers cultural haven
"Let us provide an exquisite experience of ancient China with a contemporary flair," says Li Jin, 50, a local Beijing entrepreneur who manages a luxury boutique hotel in the capital's downtown.
Located within Beijing's Second Ring Road in Weijia Hutong, Dongcheng district, the Cours et Pavillons Hotel is a little hard to find thanks to its low-key entrance.
But after being greeted by one of the butlers, guests will be able to take in the hotel's unique ambience, its traditional Chinese architectural style and its exquisite attention to detail.
Entering the courtyard, visitors can't help but notice two large ceramic goldfish ponds decorated in the lustrous blue glaze of the Qing Dynasty (1644-1911) style. In one of the hotel rooms, a beautiful antique carpet imported from Nepal around 150 years old adorns the floor.
In the same room, sits a table made from a precious wood dating back to the Qing Dynasty. Most importantly, these objects are not just decorations or historical relics put on display-they are actually there to be used by the guests.
The hotel lobby serves afternoon tea while the restaurant provides French cuisine.
"Our hotel is a perfect mixture of Chinese and Western cultures," Li, the general manager of the hotel says. "I love travel and have been to many European countries, which made me believe that the beauty of history-no matter whether it is Chinese or Western-is something we all have in common."