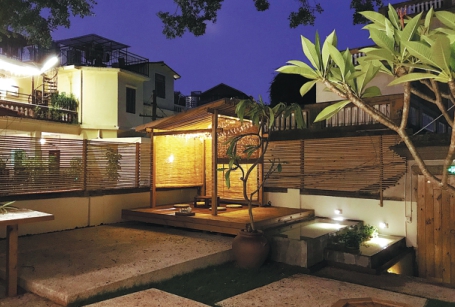 One of Airbnb's popular listings in summertime is a small villa on Gulangyu Island in Xiamen, Fujian province.[Photo provided to China Daily]
A growing number of Chinese visitors are seeking authentic local experiences via online home-sharing listings.
A report by the State Information Center reveals that revenue from home-sharing listings in China reached about 16.5 billion yuan ($2.4 billion) in 2018, a 37.5 percent increase over 2017.
"China's over 400 million millennials have become the country's major travelers," says Peng Tao, president of Airbnb China, a home-sharing platform. "They seek personalized travel experiences and like to explore the world. It's one of the factors that is boosting Airbnb's growth in China."
Airbnb recently released a report about Chinese visitors' travel in summer. There has been a big increase for Airbnb Plus-the highest-quality homes on the platformas more visitors seek well-decorated and cozy places.
Airbnb's business in metropolises like Beijing and Shanghai is still booming in summer, and orders in third-and fourth-tier cities are also on the rise.
For example, demand in the Haixi Mongolian and Tibetan autonomous prefecture of Qinghai province has shown a big increase due to its picturesque Chaka Salt Lake that shows clear reflections of the sky, clouds and tourists, like a mirror.
In other domestic destinations, Chinese visitors often relax in farm-stays, single-family houses or resorts. During outbound trips, they went for unique listings like islands.
Airbnb's data also show that the favorite overseas destinations for Chinese visitors in the summer are Japan, South Korea and the Philippines. The visa waiver offered to Chinese visitors to Serbia and Bosnia-Herzegovina saw the number of Chinese travelers increase four times over the previous year.
Popular overseas destinations for Chinese born after 1995 are Tokyo, Osaka, Kyoto, Bangkok and Chiang Mai. Popular domestic destinations among this group are Shanghai, Chengdu, Chongqing, Beijing and Guangzhou.
Emerging domestic destinations in summer for those born after '95 are Changchun in Jilin province, Wuhu in Anhui province, Shijiazhuang in Hebei province, Taiyuan in Shanxi province and Foshan in Guangdong province.
Nine out of 10 family travelers opt for a house with a kitchen.
In summer, families also like to travel to the regions surrounding the cities where they live. So, road trips are a common way to travel. Popular routes include those from Beijing to Hebei province's Zhangjiakou or Chengde.
Chen Muru, who's in charge of Airbnb's marketing in China, says: "Seasonal marketing is always essential, like for the summer vacation, the National Holiday and the Spring Festival.
"As more Chinese travelers are now familiar with the shared economy and are enjoying its benefits and convenience, Airbnb aims to further segment our consumer market."
She says that when consumers first started to learn about home-sharing, Airbnb's marketing strategy was to localize the brand in China and target Chinese millennials to ensure they felt a sense of belonging on their trips.
"The stories of our hosts and guests-be they celebrities or ordinary people-are all true. That's why these stories are moving," she says.
Li Hao is a professional Airbnb host and has about 30 listings on the platform.
Shanghai recently implemented its first regulations on waste management, and hosts like Li have started to teach guests how to sort out household waste with a bilingual guidebook.
He encourages guests to engage in waste sorting by offering them discounts or small gifts.