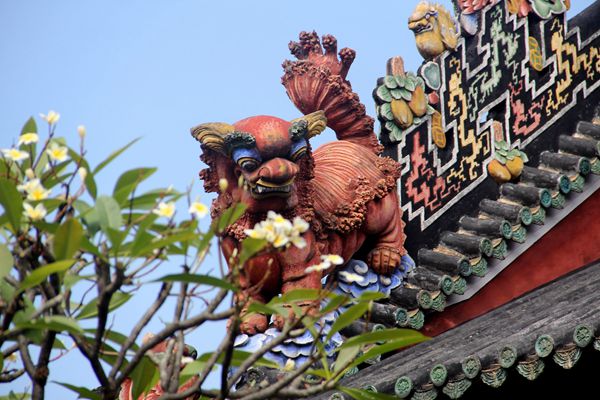 [Photo provided to China Daily]
An ancestral hall in Guangdong province continues to draw visitors thanks to its history, culture and art.
The Chen Clan Ancestral Hall, also known as the Chen Clan Academy, sits in downtown Guangzhou, the provincial capital. Built in 1893 by various clans carrying the same surname during the Qing Dynasty (1644-1911), the ancestral hall is one of the biggest of its kind in Guangdong.
"People often had to visit Guangzhou for business dealings and imperial exams, so they were in need of a place to stay," explains Huang Haiyan, director of the Guangdong Folk Arts Museum, which was established in the ancestral hall in 1959.
However, feudal officials later began to ban the halls that were developed together by different clans during Qianlong's reign (1736-95), over fears of rebellions and other social disturbances.
"That was why they then transformed themselves into academies," says Huang. This helped the Chen clan hall to survive and continue to serve as temporary lodgings for Chen offspring visiting Guangzhou.
During the Minguo period (1912-49), the Chen Clan Ancestral Hall hosted spring and fall worshiping ceremonies.
The folk art museum was forced to close in 1966 during the "cultural revolution" (1966-76), and the ancestral hall was then used for filmmaking and printing.
In 1983, the Chen Clan Ancestral Hall was restored after the folk art museum reopened.
The museum now collects and researches art items mainly from Guangdong and is charged with protecting and managing the Chen Clan Ancestral Hall.
"Seen from an architectural perspective, the Chen Clan Ancestral Hall is very well preserved," says Huang.